Hethyr:
Well, now that I have your attention, what I actually meant was FRITTATAS! I know, I know - totally egg-cellent. *groan*
Not to beat a dead horse, but when you've got a lot of one ingredient, you learn to use it in many different ways. Ewww! Now I'm giving you recipes incorporating dead horses??? Just kidding - potatoes are that one thing (okay, one of about four things) for us right now. Our last post included a recipe for Potato, Apple and Sausage Casserole, but those potatoes just keep on coming in our Grant Farms CSA share, so what next?
Use seasonal ingredients for the best taste!
One of Jon's favorite meals is a good frittata and I'm fairly sure I've never made the same one twice. A frittata is an Italian-style, open-faced omelet that is first cooked on the stove, then transferred to the oven to finish. One of the many reasons we love them so much is because they are so versatile. A good frittata can be made year-round with whatever ingredients you have on hand. You can throw in any variety of veggies, meats, cheeses, herbs and spices or "visit" one of your favorite countries - Italy (crispy prosciutto, sun-dried tomatoes, mozzarella and fresh basil or basil pesto), Greece (shredded chicken or ground lamb, feta cheese, Kalamata olives and oregano) or India (ground lamb, potatoes, peas and curry). One that would be beyond delectable in the spring is asparagus, morel and goat cheese with crushed red pepper. Mmm, my mouth is watering just thinking about it. The combinations are infinite!
We always have the most delicious and beautiful farm-fresh eggs on hand and we would recommend using farm-fresh eggs if possible. If you haven't tried them, now is the time - you don't know what you're missing! The color of the yolks is a vibrant yellow-to-orange, where the yolks of grocery store eggs are a pale, dull yellow. I'm not even sure how to describe the taste difference... the farm-fresh eggs are so much tastier! They're light, fluffy and rich. And we feel good in knowing that the chickens have good lives - not like those factory farmed chickens involved in the latest egg recall... okay, off my soapbox and back to the recipe! =)
Potato and Sausage Frittata
2-3 tablespoons butter, divided

3 medium potatoes, skin-on, diced 1/2-inch (if you have them on hand, use leftover cooked potatoes to save some time)

1 medium onion, sliced

4 ounces linguica, andouille or kielbasa sausage, diced 1/2-inch

1 medium red bell pepper, seeded, ribbed and diced 1/2-inch

8 large eggs

1/4 cup milk or goat milk

Salt and pepper

1/2 teaspoon dried thyme

Optional toppings: sour cream, hot sauce, sliced green onions
Melt 1 tablespoon of butter in a medium skillet over medium heat. Add potatoes and toss to coat. Cover, reduce heat to medium-low and cook for 5 minutes. Stir, replace lid and cook for another 5 minutes. Continue in this manner until potatoes are golden-brown and fork-tender, another 5-10 minutes. Set aside.
Heat a separate large, oven-safe skillet over medium heat. Add sausage and cook, stirring occasionally, until browned, about 5-10 minutes. Remove from skillet and set aside.
In same large skillet, heat 1 tablespoon of butter over medium heat. Add onions and bell pepper and sauté until softened, about 5-8 minutes.
Add potatoes and sausage to onion mixture in skillet and reduce heat to medium-low.
Preheat broiler (to high if your oven has a setting option); in a medium bowl, whisk together eggs, milk, salt, pepper and thyme. If necessary, melt the additional tablespoon of butter in the skillet, then slowly pour in the egg mixture. Cook over medium-low heat for about 10 minutes or until the eggs are almost set.
Place the skillet under the broiler (about 4-6 inches from heat source at top of oven) and cook for about 3 minutes or until the eggs are set and the top of the frittata is golden-brown. CAREFULLY remove from the oven - the handle will be HOT so don't touch it with bare hands!
Slice into wedges and top with sour cream, hot sauce and sliced green onions, if desired.
* * * * * * * * * * * * * * * * * * * * * * * * * * * * * * * * * * * * * * * * * * * * * * * * * * * * * * *
Jon: I can't even hear the word frittata without thinking about Chief Wiggum and Lou...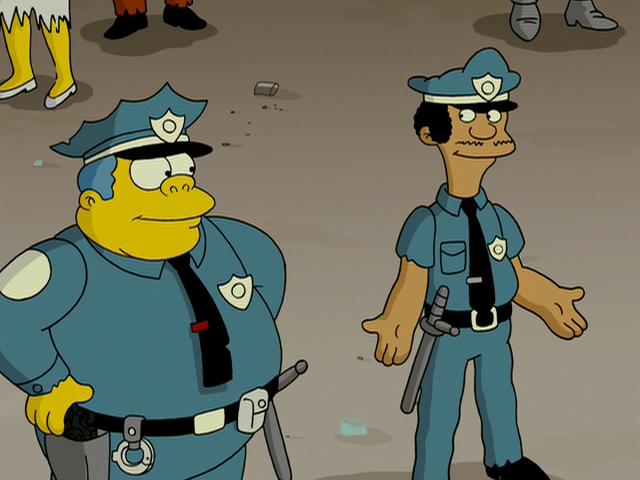 Wiggum: "Now boys, what would you say to some
Belgium Waffles?"
Lou: "Actually, I was in the mood for some frittatas."
Wiggum: "Ha! Lou and his frittatas. Hahahahahahahahahahaha! Oh, h
e likes eggs."
If you happen to share a similar spiritual connection to "The Simpsons," then that exchange was more entertaining than confusing. If it was just confusing, I suggest you watch more Simpsons.
While "The Simpsons" taught me the word frittata (as well as many other valuable life lessons), it was a restaurant in Scottsdale called The Good Egg that introduced me to the taste of this wondrous breakfast item. This was definitely one place that backed up its name... they did, in fact, serve up a damn good egg. Of course now that Hethyr and I have evolved into total food snobs, we would need to know everything about the life of the chickens who laid the good eggs before we would consider supporting this biz by consuming its food. Regardless, it tasted great at the time and added another edible love to my life.
Eggs are a weakness of mine, which partially explains my 239 cholesterol level (genetics being the primary culprit). But a frittata
can have a really high veggie-to-egg ratio to minimize the artery-clogging effect.
I try not to spend too much time on my soap box in this blog, but I'm going to hop up there for a minute anyway. Buying locally-laid farm-fresh eggs from humanely raised chickens rather than hormone-laced commercial-grade eggs laid by grossly mistreated chickens is a simple action to take. Tons of people all over the country raise their own chickens. A person in Colorado Springs, for example, can legally have ten cluckers hanging out in their yard. We know several people around town who take advantage of this, proving once and for all that dogs, cats and chickens can live together in harmony. Many people, therefore, can find fresh eggs right in their own neighborhood, or at least at a nearby farm. So show a chicken some love and eat a truly good egg.